Diamond Print Glitter Introduction Video!

The world's first full line of printable glitter paper and film that can be used for a wide range of printing and converting projects. With both a striking visual appearance and textural surface, Diamond Print Glitter will dazzle and delight as packaging, bags, envelopes, tags, labels, signage, displays and much more. Our proprietary production process eliminates glitter flake shedding and cracking. 
Optimized for every printing process…
Digital, Offset & Wide Format
Harmony Paper Company stocks Diamond Print Glitter products for virtually every printing platform and end use.  With options in rolls or sheets, we've optimized our glitter coating for both paper and plastic substrates, all of which print beautifully with zero glitter flake shedding. See our full line of products and specifications here: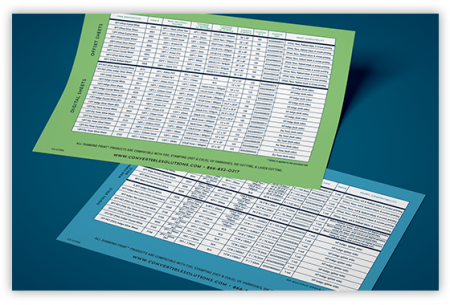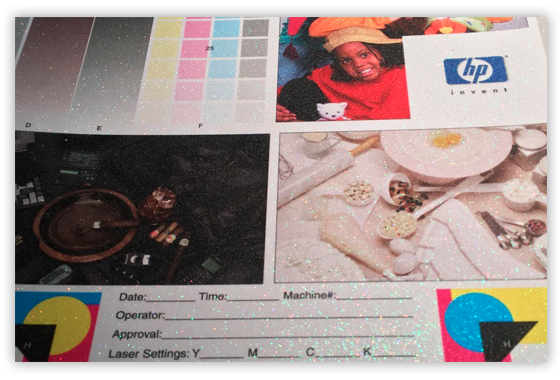 DIAMOND PRINT GLITTER: INDIGO

Our patent pending HP Indigo Certified glitter paper earned 3-star ratings with 100% ink adhesion, excellent run-ability, and photo-grade print quality. Availability in paper and film options, in both rolls and sheets. Indigo compatible on both sides, no pre-priming required. Available with MultiLoft adhesive from Convertible Solutions for creating double-sided, double-thick glitter sheets.
DIAMOND PRINT GLITTER: OFFSET
Our proprietary production process maintains a traditional glitter look and feel, while offering high resolution print quality.  Printing compatibility for offset, flexo and screen printing using UV and aqueous inks, as well as varnish.  Diamond Print Glitter can also be foil stamped (hot and cold), embossed, die cut, laser cut, scored, folded and glued.
View Offset Products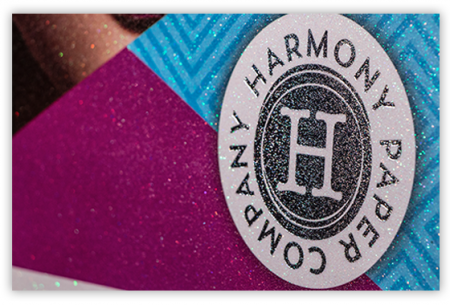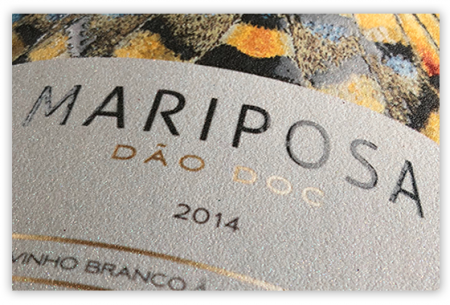 DIAMOND PRINT GLITTER: DRY TONER
These 100% shed-free sheets optimized for Dry Toner digital machines produce stunning results with all the Diamond Print perks. Our patent pending process for creating a smoother, more receptive surface for toner fusing allows for brilliant, un-mottled print results!   Ideal for short run and variable data projects.   Available with Multi-Loft adhesive from Convertible Solutions for double thick or double sided glitter options.
View Dry Toner Products
Make it your way – Custom Production
Choose Your Color: 
We can custom match your glitter flakes to any Pantone color.
Or, simply print the desired color and let our Diamond Match Glitter flakes reflect the color of your choice.
Pick Your Glitter Size:
Control your shine, smoothness, and texture with the right glitter size.
Base Substrate:
Harmony Paper Company can apply the proprietary Diamond Print™ coating to the base substrate of your choosing.
Custom Sizing:
With rolls as wide as 56.5" / 1435mm or custom sheets sizes available,
Diamond Print Glitter can be produced to fit any project or production process
Options are endless with Diamond Print Glitter's diverse applications and broad printing compatibility.
Business Cards • Brochures • Catalog Covers • Flyers • Cards/Stationery • Book/Journal Covers
Display Wraps • Window Clings • Banners • Store Signage • Folding Cartons • Product Labels/Tags • Retail Bags • Packaging
Die Cutting • Foil Stamping • Letterpress • Embossing • UV Varnish
Digital • Dry Toner • Inkjet • Offset • Flexography • Screen Printing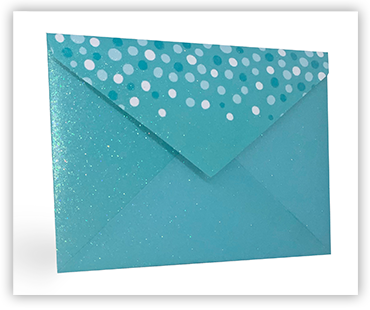 Diamond Print Glitter envelope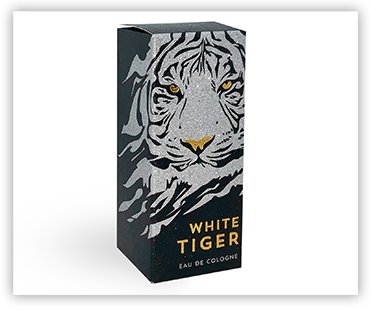 Diamond Print Glitter folding carton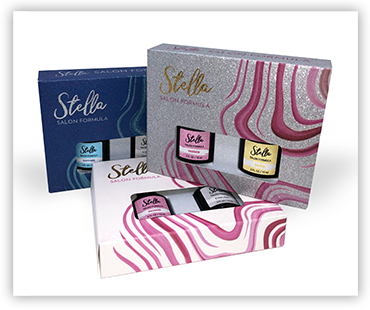 Diamond Print Glitter folding cartons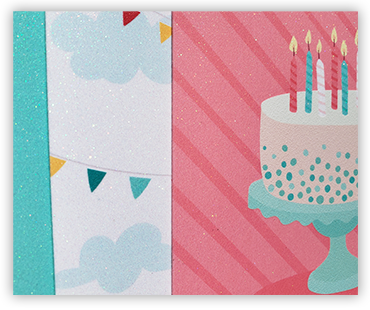 Diamond Print Glitter cards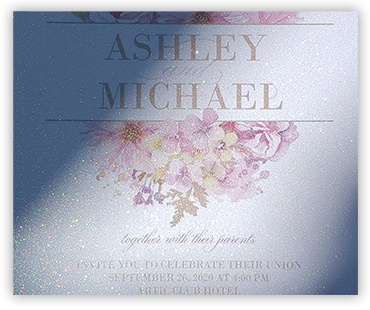 Diamond Print Crystal wedding invitaiton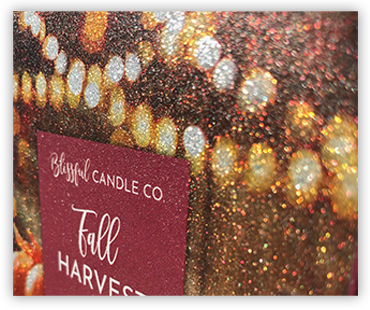 Diamond Print Silver Sheen Offset folding carton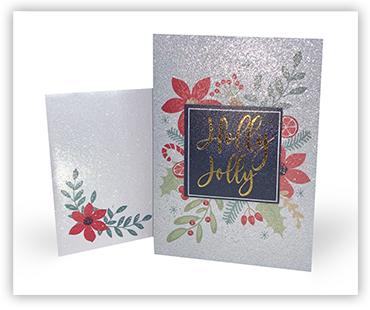 Diamond Print Glitter holiday card and envelope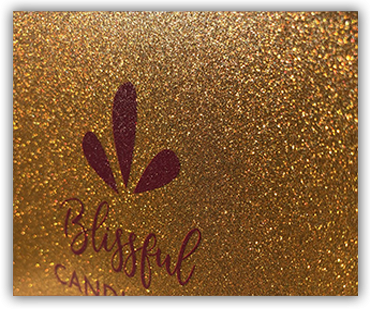 Diamond Print Silver Sheen Offset folding carton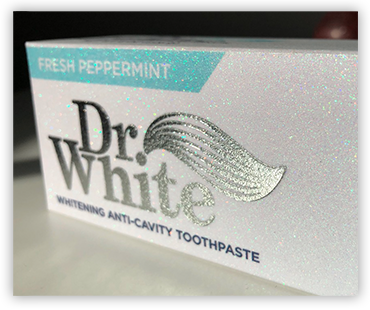 Diamond Print Crystal with foil stamping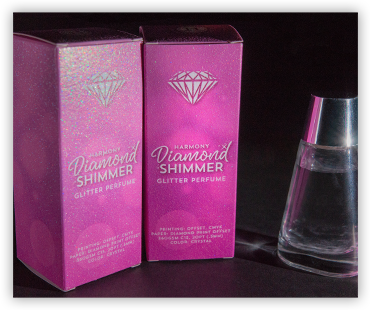 Diamond Print Offset folding carton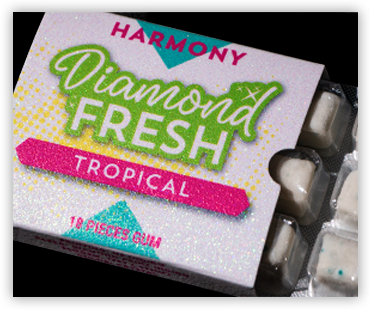 Diamond Print Indigo folding carton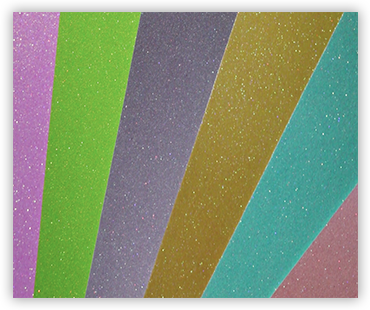 Diamond Print flood coated sheets.
Print any color!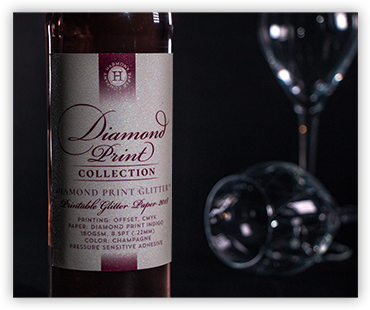 Diamond Print Offset Adhesive Label.
Printed on Champagne.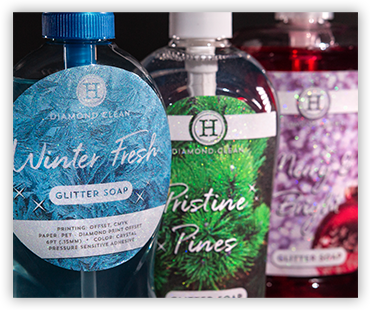 Diamond Print Offset PET labels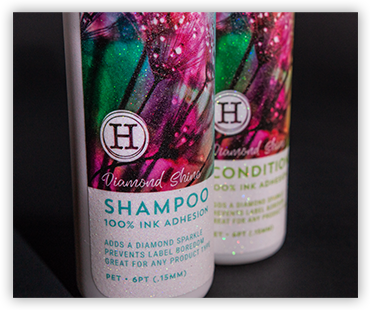 Diamond Print Offset PET labels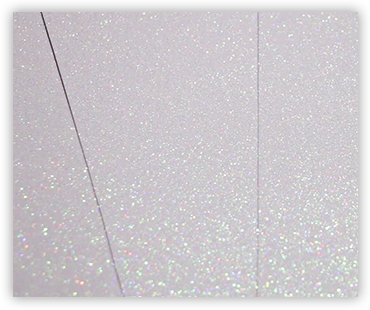 Diamond Print Crystal sheets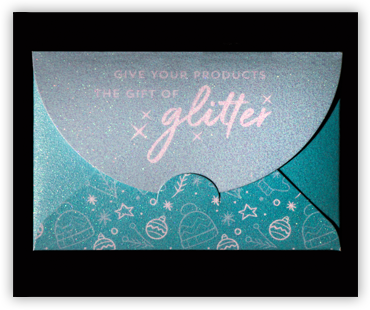 Diamond Print Indigo folded gift card holder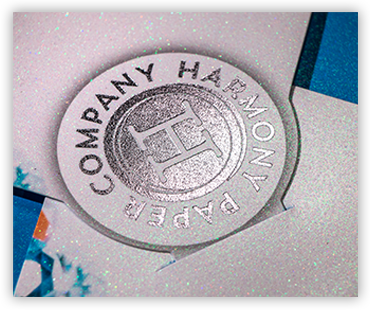 Diamond Print Offset with foil stamping